These vegetarian corn nuggets are a great dish to use as a party popper, or you can have them as an appetizer.
what you need!
1 can of creamed corn
1 can of whole grain corn, drained
1/2 cup yellow cornmeal
1/2 cup all-purpose flour
1 egg white
2 tablespoons of milk
salt and pepper to taste
3 cups of vegetable oil for frying

how to do it: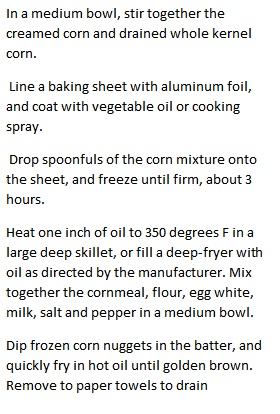 Nutrition Facts
Per serving: 68 calories; 3.6 g fat; 8.3 g carbohydrate; 1.2 g protein; < 1 mg cholesterol; 73 mg sodium Powered by the ESHA Research Database © 2018, ESHA Research, Inc. All rights reserved
Greetings!