An organized bathroom saves you time and money. It means no more digging through cabinets to find the one thing you need when you are in a rush. No more buying an extra because you didn't remember you already have three under the sink. And no more wishing you had more space in your jumble of beauty products.
All you need is one afternoon of free time and some inexpensive items to create an organized bathroom. These bathroom organizational ideas will transform your bathroom into a nicely organized space.
1. Use dollar-store baskets (h/t One Crazy House)
The dollar store is an excellent source for cheap organizing items. Plastic baskets combine with Command hooks to use vertical space. You can use other containers and baskets in creative ways to organize all your bathroom items. If you can't find a color you like, spray-paint them.
2. Use the space above your toilet (h/t Rise and Renovate)
The space above the toilet is often wasted. Look for cute shelves at a craft store, many of which offer coupons online and in their apps. The baskets are perfect for holding extra hand towels, soaps and other bathroom items.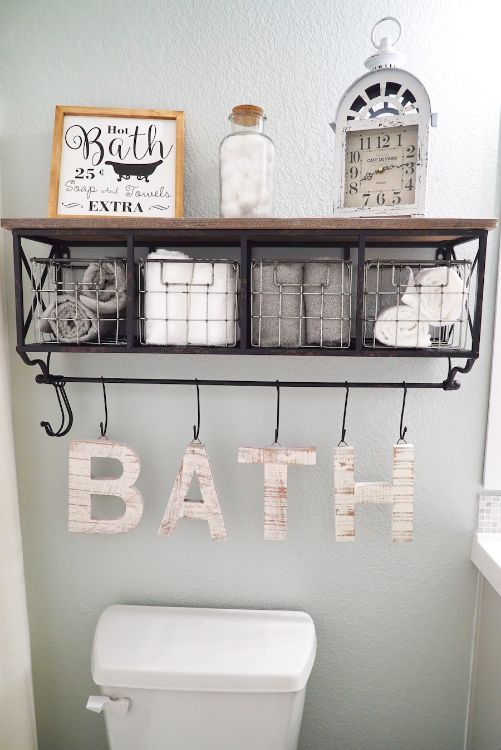 3. Keep toothbrushes neat (h/t Little Penelope Lane)
A kitchen utensil organizer stores your toothbrushes and other dental care items neatly away in a bathroom drawer. Each toothbrush stays confined to its own space, preventing germs from spreading. Pulling it out for a quick run through the dishwasher on a regular basis is all you need to keep it nice and clean.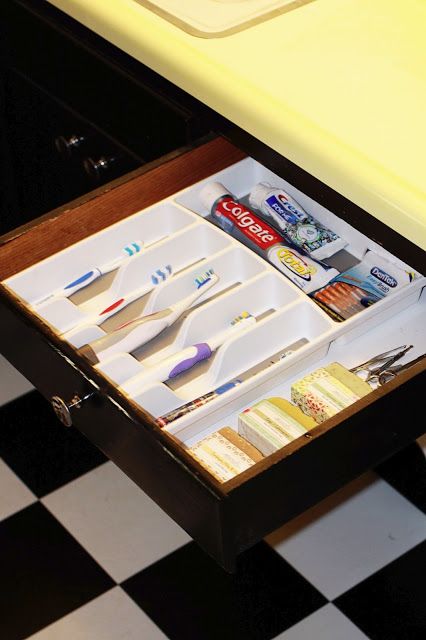 4. Give things a spin
CLICK NEXT PAGE BELOW TO CONTINUE READING …