Rescued strays always remember the kind people who saved them from a miserable life on the streets. At first, things didn't look very bright for Chunk. The puppy was badly neglected and eventually dumped and tied to a tree. Gladly he was spotted hours later by just the right people. The young Pitbull was saved and eventually adopted by the same firefighter who rescued her.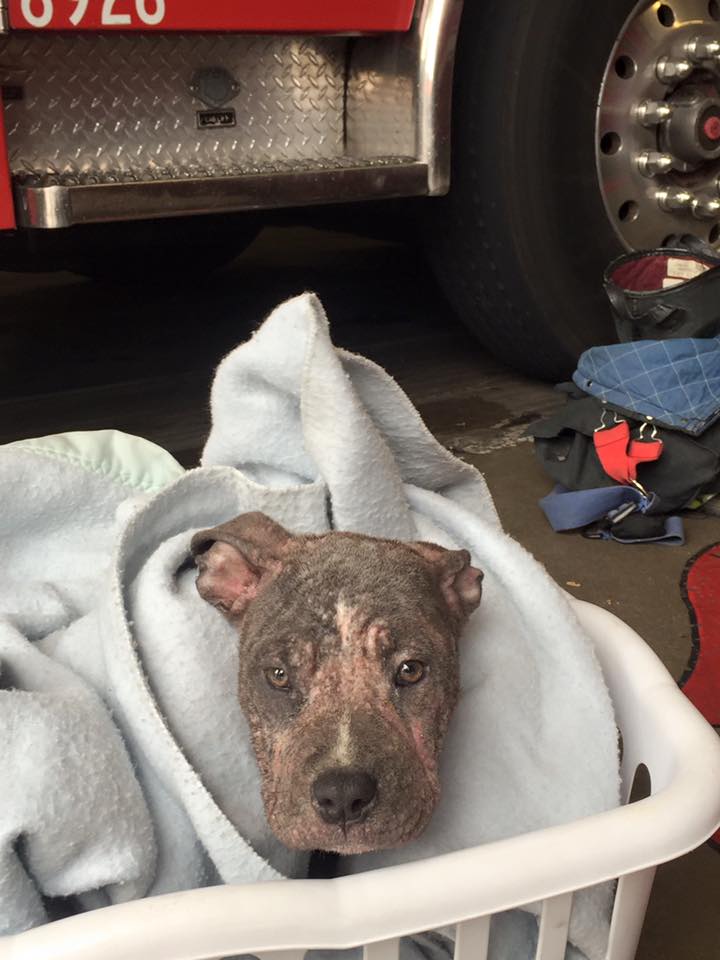 It was a freezing October night when beautiful Chunk was dumped after months of neglect and abuse. She was covered in mange and shivering in the cold. Luckily a group of Sacramento firefighters passed Chunk on the way to answer a call. They couldn't stop to help the poor pooch at the time, but firefighter Mike Thawley couldn't get the image of the helpless puppy out of his mind. After responding to the call, Thawley insisted they'd go back and check on the pooch. Chunk was still there tied to the same tree, so the firefighters picked her up and brought her back to the station with them.
The compassionate firefighters nurtured the poor pup. She had swollen legs, mange, but more than anything else, she was longing for affection. Despite their kind hearts, the firefighters were definitely no vets, and the pooch seriously needed to see one.
CLICK NEXT PAGE BELOW TO CONTINUE READING …